The First of its kind in Taiwan – lntelligence PSG Scoring Training Workshop Virtual Gathering with nearly 100 Sleep Experts
Increased population in Taiwan suffers from chronic insomnia
Modern-day lifestyles tend to involve being busy with work and having high stress, which in turn affects emotions and sleep. According to a 2019 survey conducted by Taiwan Society of Sleep Medicine, one tenth of the population in Taiwan suffers from chronic insomnia, which translates into more than 2.3 million people suffering from sleep disorders. Poor sleep quality and long-term reliance on medication to assist with sleeping may cause cognitive impairment and other side effects, as well as increase the risk of dementia and Alzheimer's disease. Many affected seek sleep physiology exams. This traditional method is time-consuming, has a large margin of error, and is inconsistent in quality because it is largely dependent on the experience and judgement of the technician. With the introduction of technology, what solutions can provide accurate and consistent interpretation results across the board?
The first training of the smart sleep PGS scoring platform in Taiwan
The MOST AI Biomedical Research Center, together with the Sleep Medicine Center of NCKU Hospital and the Taiwan Society of Sleep Medicine, jointly organized the first 2021 lntelligence PSG Scoring Training Workshop in Taiwan. This event was conducted online on June 6, 2021 in accordance with the government's pandemic prevention measures. Many special guests were in attendance, including Chairman Kuo-Liang Chiu of Taiwan Society of Sleep Medicine, board member Sheng-Yi Liu, NCKU Hospital Sleep Medicine Center Director Cheng-Yu Lin, China Medical University Sleep Medicine Center Director Liang-Wen Hang, and Sheng-Fu Liang, Director of MOST AIBMRC. In addition to the series of speeches and expert seminars presented, nearly a hundred sleep experts and technicians from all over Taiwan attended via live video broadcasting and participated in the training. This is the first time that Taiwan has conducted training of the smart sleep PGS scoring platform.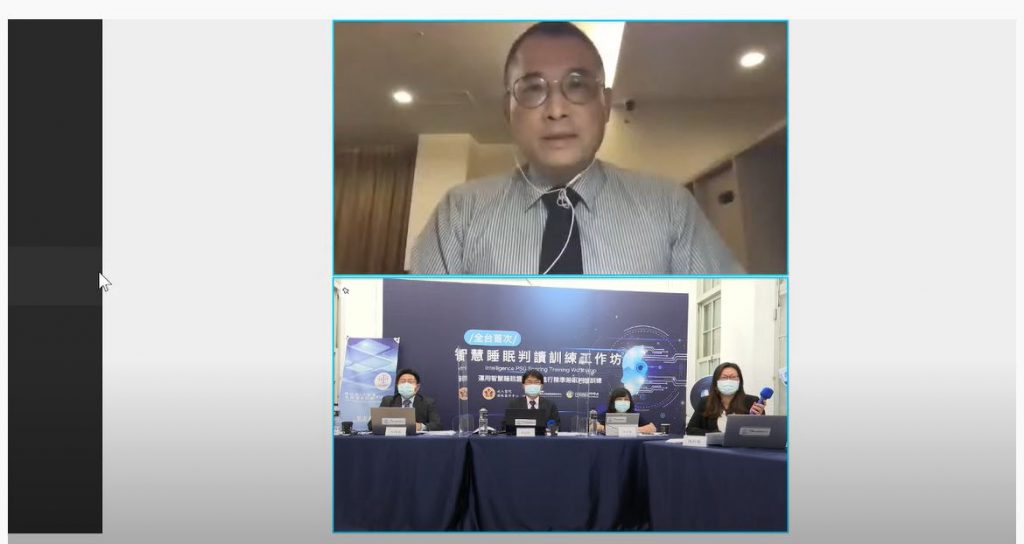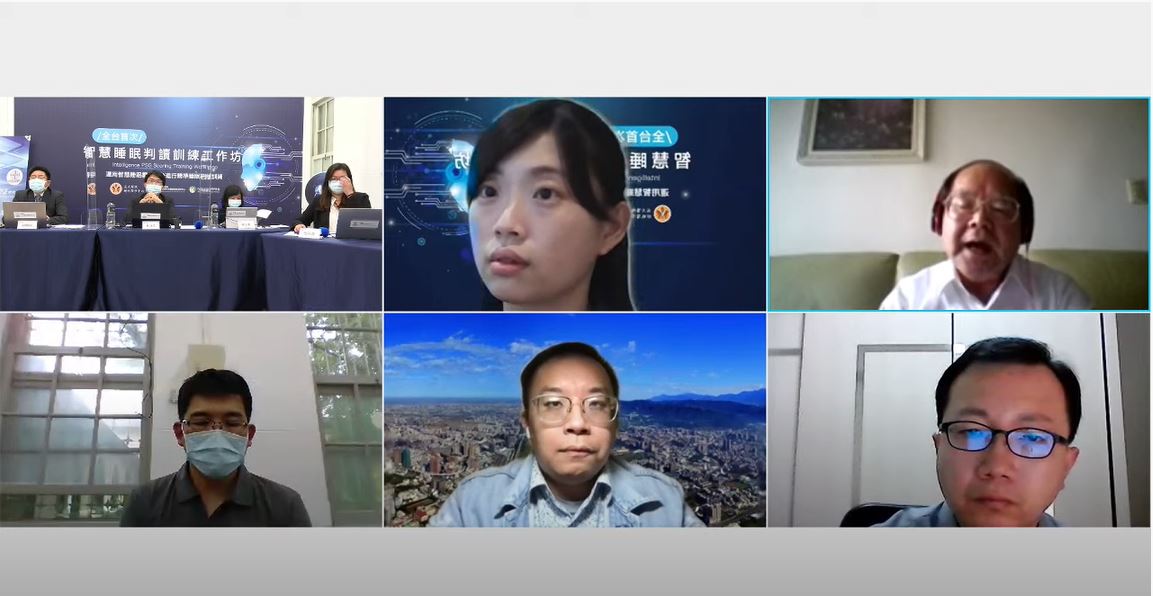 In clinical practice, multiple physiological monitors for sleep are used for evaluation. The interpretation software of the existing system is limited and relies upon manual interpretation by sleep technicians. These results are then provided to sleep specialists for evaluation and diagnosis. Manual interpretation is time-consuming, each report taking about 2 to 4 hours to complete. They are highly dependent on the personal experience of the sleep technician, which is likely to cause discrepancy due to varying interpretations. The team of Prof. Sheng-Fu Liang in the Dept. of Computer Science & Information Engineering at National Cheng Kung University has developed a Smart Sleep Interpretation Cloud Platform, which combines a human-machine collaborative interpretation interface for sleep technicians to perform real-time online interpretation of physiological sleep signal data and brain wave characteristics regardless of location.
The purpose of this workshop is to allow sleep technicians island-wide to come together and familiarize themselves with the online intelligent interpretation system. All participants answered a set of physiological sleep signal data test questions prior to the workshop. Once the sleep technicians completed the online interpretation questionnaire, their results were compared with the answers of multiple experts, and then individual sleep interpretation ability indicators were produced. Easily identifiable errors were able to be discussed and corrected. These exchanges could also be used to formulate medical quality control procedures to promote sleep report interpretation consistency. New topics for development of smart biomedical technology were generated in Southern Taiwan thanks to the avid participation in the workshop. Prof. Sheng-Fu Liang's team looks forward to the vast collection of signal interpretation results data from experts across the country. The same characteristics and easily confused signals are found after comparison. With AI technology, an automated, expert interpretation system can be developed. These changes will shorten interpretation time, achieve consensus and credibility of interpretation, and improve the overall diagnosis efficiency and accuracy rate.
 Experts gather online to develop technical solutions
Chairman Kuo-Liang Chiu of the Taiwan Society of Sleep Medicine gave the opening remarks. "From the perspective of smart medicine, the field of sleep medicine is developing rapidly. Taiwan Sleep Society is also committed to promoting and introducing online cloud interpretation. Many thanks to NCKU Hospital's Sleep Medicine Center and MOST AIBMRC for working together to develop technical solutions, made even more meaningful during the covid-19 pandemic. It is hoped that through this new technology application model, more patients can be helped, inspection and interpretation work become more accurate, and a model work protocol can be created to successfully solve the sleep medicine issues in Taiwan and be replicated on the world stage." Sheng-yi Liu of the Taiwan Sleep Medicine Association stated that this Workshop attracted nearly one hundred sleep technicians in Taiwan to attend; he believes participation in this event will bring considerable gains to sleep technicians and further improve the country's sleep examination technology and care for patients with sleep disorders. He hopes that meaningful activities like this one will continue to be held. Sheng-Fu Liang, Director of the MOST AI Biomedical Research Center said that he was particularly grateful to the Ministry of Science and Technology for its support in the development of the smart cloud interpretation system as well as the many years of cross-domain cooperation with NCKU Hospital's Sleep Center. Thanks to Taiwan Society of Sleep Medicine's call for participants, sleep technicians from all over Taiwan were able to gather together. Using Artificial Intelligence, we can fulfill the need to actively develop a reliable human-computer collaboration system. We will continue to work diligently to develop new technology models and become Taiwan's long-term partner of Sleep Medicine, working together to contribute to new developments in Sleep Medicine. The convener of this workshop, Director Cheng-Yu Lin of NCKU's Sleep Medicine Center, also pointed out the importance of introducing AI technology applications into the development of sleep medical field, particularly the sleep diagnosis interpretation process as it's quite time-consuming and imperative to achieve consistent interpretation quality. It is a great honor to work with the team of Professor Sheng-Fu Liang from NCKU's Dept. of Computer Science and Information Engineering to develop a Smart Cloud Interpretation System. I also thank the Taiwan Society of Sleep Medicine for its support. This is the first online event exclusively for sleep technician interpretation training. He hopes that the event will be fruitful for all participants.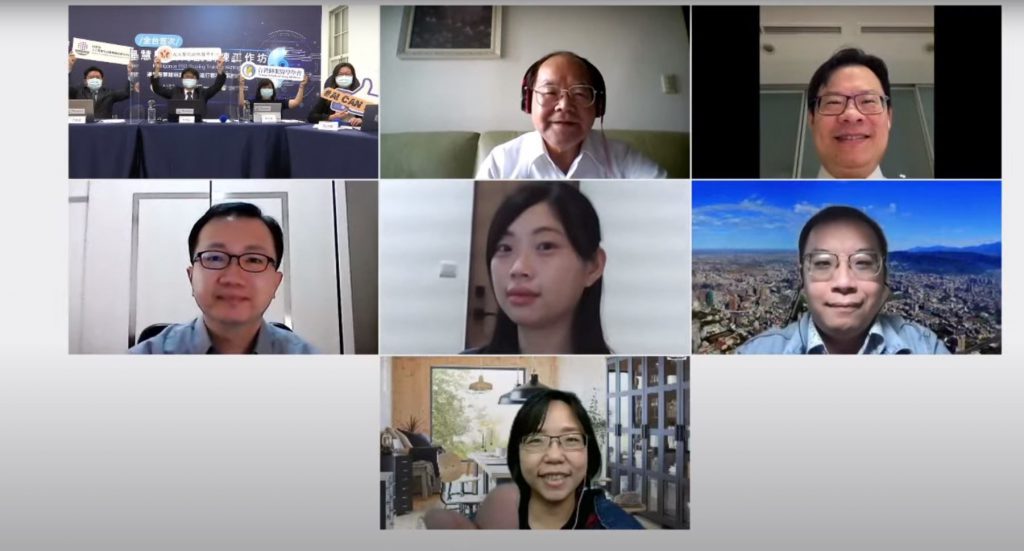 2021 Intelligence PSG Scoring Training Workshop」Special Guests Group Photo, courtesy of AIBMRC.