Ever-increasing number of elderly incapacitated persons
By 2025, Taiwan will transform into a super-aged society. The government has begun actively promoting policies and services for the elderly in order to accommodate for the rapid aging of the overall population. Particular emphasis has been placed on elder health and care issues. Physical deterioration experienced by elderly patients tend to be attributed to the natural aging process and are often associated with complex health issues like psychology and environment. Seniors not in tune with their bodies may miss the window of opportunity to get checked earlier which causes their health to further decline. Conducting comprehensive assessments of elderly patients via physicians, nurses and other medical care experts provide insight into the areas of medicine, psychology, performance, family and social environments, all which become benchmarks for treatment and care plans.
The Initial Workshop of Smart Geriatric Screening and Assessment in Taiwan
MOST AI Biomedical Research Center, along with the Health Promotion Administration (Ministry of Health and Welfare), Formosan Association of Care & Education for the Seniors, National Cheng Kung University and affiliated Hospital jointly organized the 2021 Workshop of Geriatric Screening and Assessment. Due to current pandemic regulations, the event was held online on August 27, 2021. Special guests included Health Administration Section Chief Mr. Yuan-Fang Chung, Dr. Chia-Ming Chang, Director of the Institute of Geriatrics and Gerontology, NCKU Dept. of CSIE Prof. Wen-Hsiang Lu, and Director of MOST AI Biomedical Research Center, Prof. Sheng-Fu Liang. A series of speeches and expert-led seminars were conducted virtually and brought together thousands of clinical experts from more than three hundred medical, care giving, and public health units from all over Taiwan. This workshop is the first of its kind in Taiwan to gather for study and exchange of Geriatrics via a smart platform. Pursuant to the project of "2021 Guiding Hospitals to promote the Elderly Assistance Model" promoted by the National Health Administration, this is a very important milestone for Taiwan's farsighted AI technology to be applied to medical clinical practice. It is also a key achievement indicator for the Ministry of Science and Technology toward the development of forward-thinking AI technology.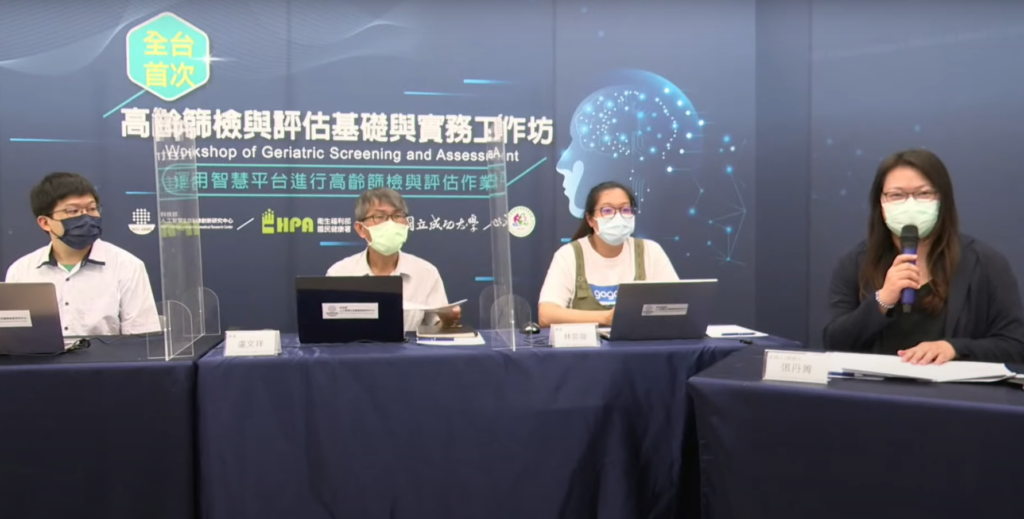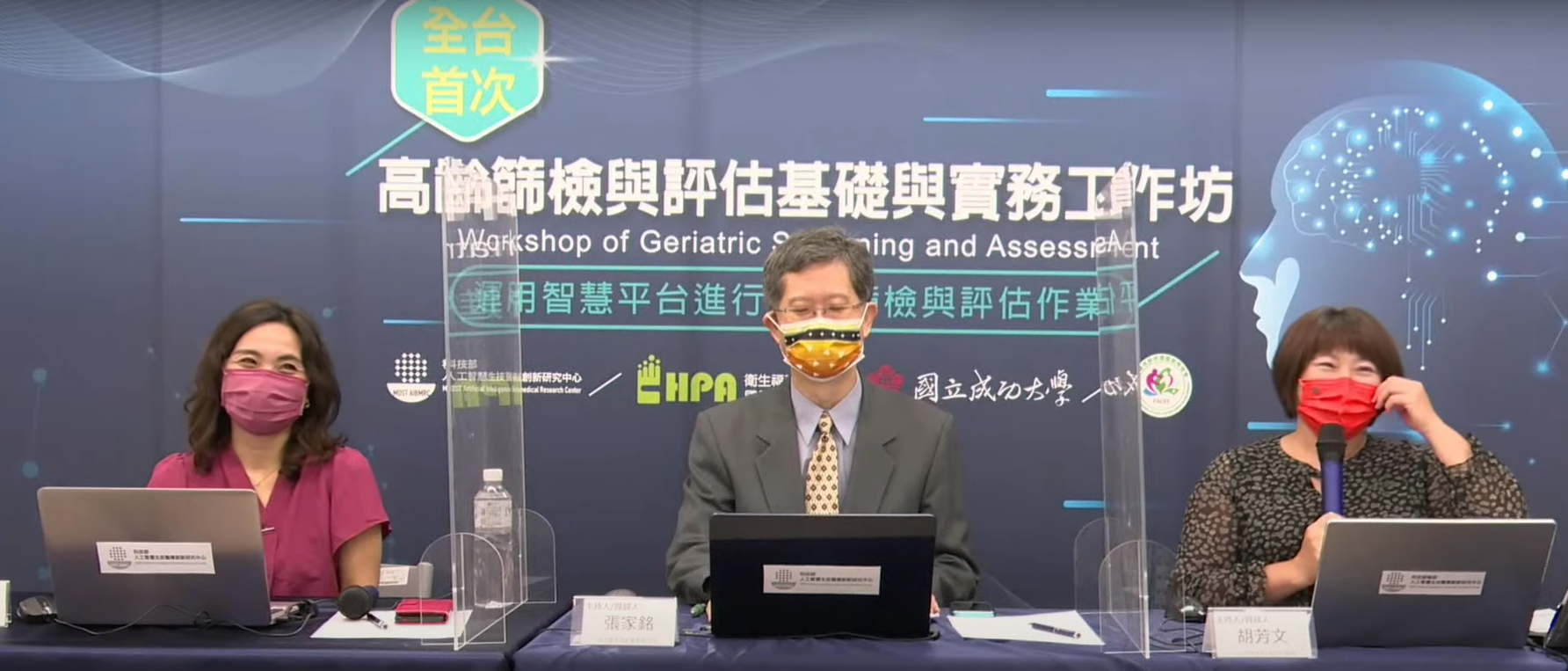 Comprehensive evaluations in the clinic involve manual inquiries from various senior care clinical experts and typically are handled by the individual departments and different personnel, and then the cases are compiled after all the data gathering is complete. A complicated and time-consuming process. Due to this, MOST AI Biomedical Research Center has partnered with NCKU Hospital Dept. of Geriatrics and Gerontology Prof. Chia-Ming Chang. Professor Wen-Hsiang Lu's team at NCKU's Dept. of CSIE & Institute of Medical Informatics was tasked with creating the clinical needs based application – 「Health Survey」. This application would convert evaluations into data-based, simplify the complicated and difficult paper data collection and provide functions for assisting medical staff to analyze and integrate information quicker and more efficiently into a complete report.
The purpose of this workshop was to call upon clinical experts in the elderly medical field throughout Taiwan to join in online learning and exchange. In addition to discussing the current implementation protocol and dilemmas of elderly care and related screening and evaluation operations, the smart APP development process could benefit from the sharing of clinical practice experiences. This event sets the example to lay a good foundation for the advancement of smart medicine in elderly care.
The "Health Survey" APP developed by Professor Lu's team was released to workshop participants to test out. Through real-time interaction and dialogue during the workshop, the developers better understood the actual trial experiences and feedback in the clinical field, and can continue to optimize the APP functions and operation process. Complete cloud database analysis and intelligent voice functions will be incorporated in stages to satisfy clinical needs and increase willingness to use this app.
Inter-ministries and interdisciplinary experts gathering for online dialogue
Director Sheng-Fu Liang of MOST AI Biomedical Research Center delivered opening remarks. He welcomed the thousands of senior care-related participants on behalf of the organizers, and also noted that this workshop is the first of its kind in Taiwan and a multi-departmental initiative. The online activities are both foundational and practical. This is an important milestone in the implementation of the application and inter-hospital promotion of smart elderly and medical care."
Yuan-Fang Chung, Section Chief of the National Health Administration, was invited to give an online speech. He stated that the National Health Agency has been making efforts to promote a friendly elder care model and hopes that all participants gain a lot of useful information from today's events to be used in the workplace.
The leader of the "Health Survey" APP development team, Professor Wen-Shiang Lu from NCKU's Department of Medical Informatics said that all major hospitals in Taiwan will soon begin providing comprehensive assessments for the elderly with the assistance of digital technology. The development of the quick screen version has also been completed. He's very happy that smart technology has finally entered the medical field, bringing more well-being to the elderly population.
The main convener of this event, Prof. Chia-Ming Chang, director of NCKU's Geriatrics and Gerontology Department and the founding chairman of the Formosan Association of Care and Education for the Seniors, also pointed out that Taiwan is entering into a super-aged society. Medicine and technology are Taiwan's advantages. Through this event, we were able to brainstorm and discuss how to use our advantages to problem solve current and future issues facing the elderly population.